Filter Reviews
5.0 star rating

4.0 star rating

3.0 star rating

2.0 star rating

1.0 star rating
Begona F.
5.0 star rating
Best ever
Review by Begona F. on 30 Mar 2020
review stating Best ever
I am using my súper foods on every recipe. It has inspired me to eat better and fresh. Yesterday I made oatmeal cookies and added the chocolate lover. Perfect addition to give the extra touch of health... 2 cups of quick oat meal, 2/3 cup of coconut cream, 3 tsp chocolate lover and 1/3 cup of semisweet chocolate chips. 350F on the oven for 15 min.
Comments by Store Owner on Review by Begona F. on 30 Mar 2020
Worth their weight in gold!
Review by Jen C. on 26 Nov 2019
review stating Worth their weight in gold!
I've never bought shakes in my life, thinking that money would be better spent on just eating healthier and not drinking shakes with fillers. Enter Your Super. I lost 3 immediate family members to cancer in the last 4 years, including my 35 year old brother earlier this year. I set an intention to become healthier and felt plant based was that way to go, despite having never gone vegetarian or vegan in 37 years. After the 5 day detox I realized what my body was missing all this time: super healthy nutrients. Have struggled with my weight for most of my life and had no problem dropping 5lbs that first week. After the detox my skin was glowing, I had more energy, and my stomach was flatter. It was like hitting the reset button for my digestive system! I loved it so much I've kept it up for two weeks now and plan to continue eating a mostly plant based diet. Thank you for these amazing products!
Evelyn S.
5.0 star rating
Detox
Review by Evelyn S. on 25 Nov 2019
review stating Detox
I started with mixed feelings bit even now, 3 weeks after my detox week, i feel better and i continue to drink my SG with SP every morning. A reorder is on it's way . Thx !!!
Evelyn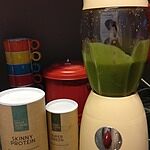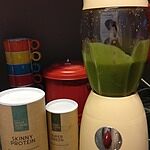 Worked without being aggressive!
Review by April W. on 23 Nov 2019
review stating Worked without being aggressive!
I was fearing the worst with this detox but it was a breeze and the mid day salads with brown rice and beans or peas really filled me up!
Comments by Store Owner on Review by April W. on 23 Nov 2019
So happy to hear the detox went well for you :)
Juliana C.
5.0 star rating
Best Detox I've ever done!
Review by Juliana C. on 22 Nov 2019
review stating Best Detox I've ever done!
My husband & I have done a lot of detoxes & this was so easy, fun & delicious! I feel so good on the mixes, I even crave them throughout the day. I've tried a lot of different green powders and they all have a weird taste that makes me not be able to continue using them- Your Super green mixes don't have that!
Results: We've both lost some weight. We have a LOT more energy. I'm not addicted to caffeine anymore & feel great! My skin is glowey & inflammation is down. I had an allergic reaction rash on my back & I couldn't figure out what it came from & now it's gone! This detox totally reset us & it seriously is the BEST, EASIEST & TASTIEST detox we've ever done!! & We've done a LOT of different ones.
Side note- of you need some motivation to drop meat and wat a plant based diet watch Game Changer on Netflix! It literally is a Game Changer! Also, their mixes, recipes, smoothies etc make it achievable & enjoyable to eat a plant based diet!

The detox bundle lasted for both my husband & I for about a month I think & some mixes more than that.
BOTTOM LINE: JUST DO IT ALREADY! YOU'LL LOVE IT!!
Comments by Store Owner on Review by Juliana C. on 22 Nov 2019
Thank you for this awesome review ❤️❤️
Q: How often can you implement this detox?
Do you have any sort of snacks or is it just the am and pm smoothie with a salad for lunch?
A: You can do the Detox as many times and for as many days as you'd like! You are also able to add snacks as needed.
Q: krijg ik alle info in nederlands?
kan ik een pakket bestellen en dat met 2 personen doen?
A: Ja, je kunt het met twee mensen doen en je hebt nog steeds
overblijvende.
Neem contact op met ons EU-team om de informatie in het Nederlands te krijgen!
Q: I am not a vegetarian. Would I be able to stick with the detox plan? I am a picky eater and like very simple foods,not a lot of different veggies:/
A: Hi Tina! The detox is completely plant-based (vegan). While it may be difficult at first, you may try some new foods that you love, and you will surely love how you feel after completing it!
Q: what is the "Starter Pack ($27.50) -- perfect after the detox!" -- I can't find a description for it anywhere on your website.
Q: Is this just enough product for the 5-Day Detox, as the Super Green, Forever Beautiful and Skinny Protein look like they are 30-day canisters?
A: Customers find that the Detox Bundle should last about a month or so with continued use!